Birds
This bird list, with the more common species listed first, is very typical of the Sonoran Desert:
Rock Wren -- Salpinctes obsoletus --

S,F,W,Sp

Verdin -- Auriparus flaviceps --

S,F,W,Sp

Tiny birds, barely larger than a hummingbird. Gray/brown with a majestic yellow head.
House Finch -- Carpodacus mexicanus --

S,F,W,Sp

Males have conspicuous red on head and upper chest
Black-tailed Gnatcatcher -- Polioptila melanura --

S,F,W,Sp

so tiny and so animated!
Cactus Wren -- Campylorhynchus brunneicapillus --

S,F,W,Sp

White-winged Dove --

Sp,S

Common Poorwill --

S,F,Sp

Great-horned Owl -- Bubo virginianus --

S,F,W,Sp

Turkey Vulture -- Cathartes aura --

S,F,Sp

Gila Woodpecker -- Melanerpes uropygialis --

S,F,W,Sp

Phainopepla -- Phainopepla nitens --

S,F,W,Sp

Black-throated Sparrow -- Amphispiza bilineata --

S,F,W,Sp

Gambel's Quail -- Callipepla gambelii --

S,F,W,Sp

White-crowned Sparrow -- Zonotrichia leucophrys --

W,Sp

Curve-billed Thrasher -- Toxostoma curvirostre --

S,F,W,Sp

Ladder-backed Woodpecker --

S,F,W,Sp

Scrub Jay --

F,W,Sp

Canyon Towhee -- Pipilo fuscus --

S,F,W,Sp

Common Raven -- Corvus corax --

S,F,W,Sp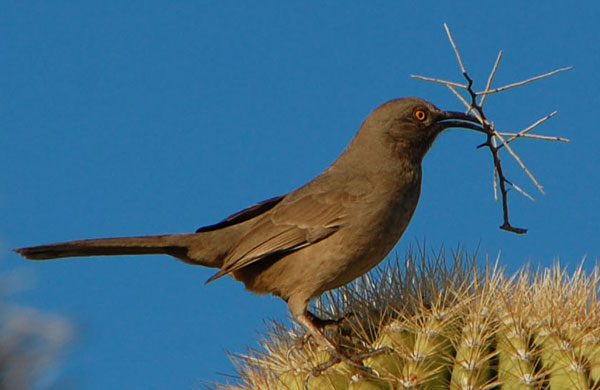 This photograph of a Curve-billed Thrasher, Toxostoma curvirostre, was taken by Michael Plagens at Gilbert Water Ranch, Gilbert, Arizona, Feb. 2009.
Sponsored Links